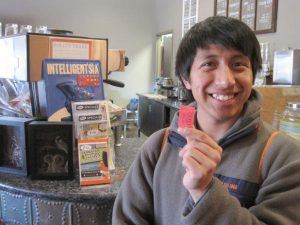 Back in August, students who visited Cafe Zojo had a chance to have their fall tuition reimbursed in a raffle held by the cafe and coffeehouse at The Pines in Urbana.  The winner would receive up to $5318 for their college tuition.
Cafe Zojo has announced that the winner of the raffle is Sergio Diego-Juan, an art student at Parkland College in Champaign.  According to Cafe Zojo, Sergio is "an amazing artist who has spent countless hours at Cafe Zojo studying and drawing over his favorite latte".
Congratulations, Sergio!
Cafe Zojo is located at The Pines in Urbana (at the intersection of Windsor and Philo Rd.), and is open from 6:30am to 10:00pm.