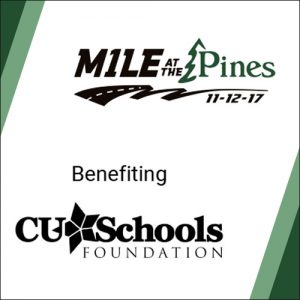 Join us for the inaugural running of Mile at the Pines on Sunday, November 12 at 1:00 p.m. in Urbana, Illinois, adjacent to The Pines shopping center at the corner of Windsor and Philo Road!
From The News Gazette:
Illinois Marathon group excited to put on 'Mile at the Pines' — and it's for a good cause

Area runners have been able to test their endurance over 26.2 miles in Champaign- Urbana since the Christie Clinic Illinois Marathon debuted in 2009. Now they can test their speed over one mile at a new race the marathon organizers have created.

The Mile at the Pines is a series of 1-mile races — with different waves for different age groups and speeds — that will be run Nov. 12 along Philo Road. The race will benefit the CU Schools Foundation.
For more information on the races, visit MileAtThePines.com.