Urbana, IL. – The Atkins Group has broken ground on a 60,000-square-foot Class A flex warehouse called Newton Warehouse in Interstate East Subdivision, adjacent to Interstate Research Park, Dodds Company is the general contractor for the new project located at the intersection of Boardwalk and Newton Drives in Champaign, Illinois. Newton Warehouse can be leased into six 6,000-square-foot premises and two 12,000-square-foot premises. The flex warehouse is ideally suited for tenants seeking a combination of office and warehousing uses.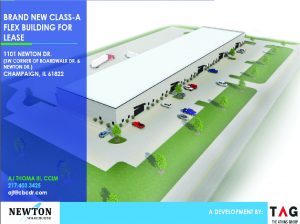 "This project includes a public street extension of Newton Drive," said John Martinie, Project Manager of the Atkins Group Commercial/Industrial Division. "The street extension will open up additional lot sale and development opportunities in this subdivision." Available light industrial lots range from two acres to five acres in overall size.
This is the second warehouse of The Atkins Group in Interstate East Subdivision, which resides in the enterprise zone. Hickory Point Bank is the lender on the project. Leasing is brokered through AJ Thoma III at Coldwell Banker Commercial Devonshire Realty. The building shell is set to be completed in early December 2019. Interior tenant improvements can be installed as the building shell and site improvements are being completed.
##
As one of Champaign County's preeminent real estate developers, The Atkins Group owns and manages a diverse portfolio of holdings in residential, office, retail, industrial, and farm land investments. Each division works with clients on a custom experience to fit every need; from finding the right land, buying and selling, to coordinating concepts, bids, and build-outs.