Clint and I started our business in the early 80's. Really, it started well before that, and it was always a family venture. Growing up in this community, our children were always busy with their activities – school, sports, clubs, and friends – and when it was time to assist in our projects, they were right there working with us. Clint was a man with so many ideas, and he was always thinking outside the box. He looked at the community and thought about what he could do with the talents and skills he possessed. Our goal for our family was a sustaining business for our children and grandchildren to bring their interests and talents. It was important to us that they be involved and they find a place in the company and in the community. Seeing them now, I'm elated.
TAG always evolved and continues to. As long as we evolve, we'll be successful. We grew from a small family operation to an office, to an organization. Clint always said, "When you employ people, employ people who know more than you. You'll always learn more from them." We have been so blessed with our talented team who has been with us for so many years, and as our business has evolved, we see that we have, too. We are all family, here, working and supporting each other. It gives a brilliant meaning to the term "family business."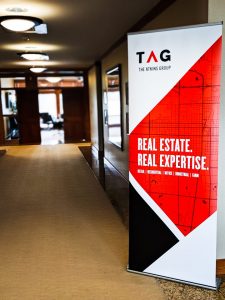 Our tag line "Real Estate. Real Expertise." has been a prominent theme this year. We have encouraged our team toward personal professional development – to take classes, attend seminars, and seek out the newest knowledge. Moreover, we want our experts to share what they know and what they have learned with us as we all grow and evolve together. So, we are excited to launch our new "Expert Series" on our website. Our team will be posting from their experiences and sharing their expertise – from development, and building, network, communications, and community, and beyond.